Naples, its history and its landscapes
Duration
2 ½ hours - 3 hours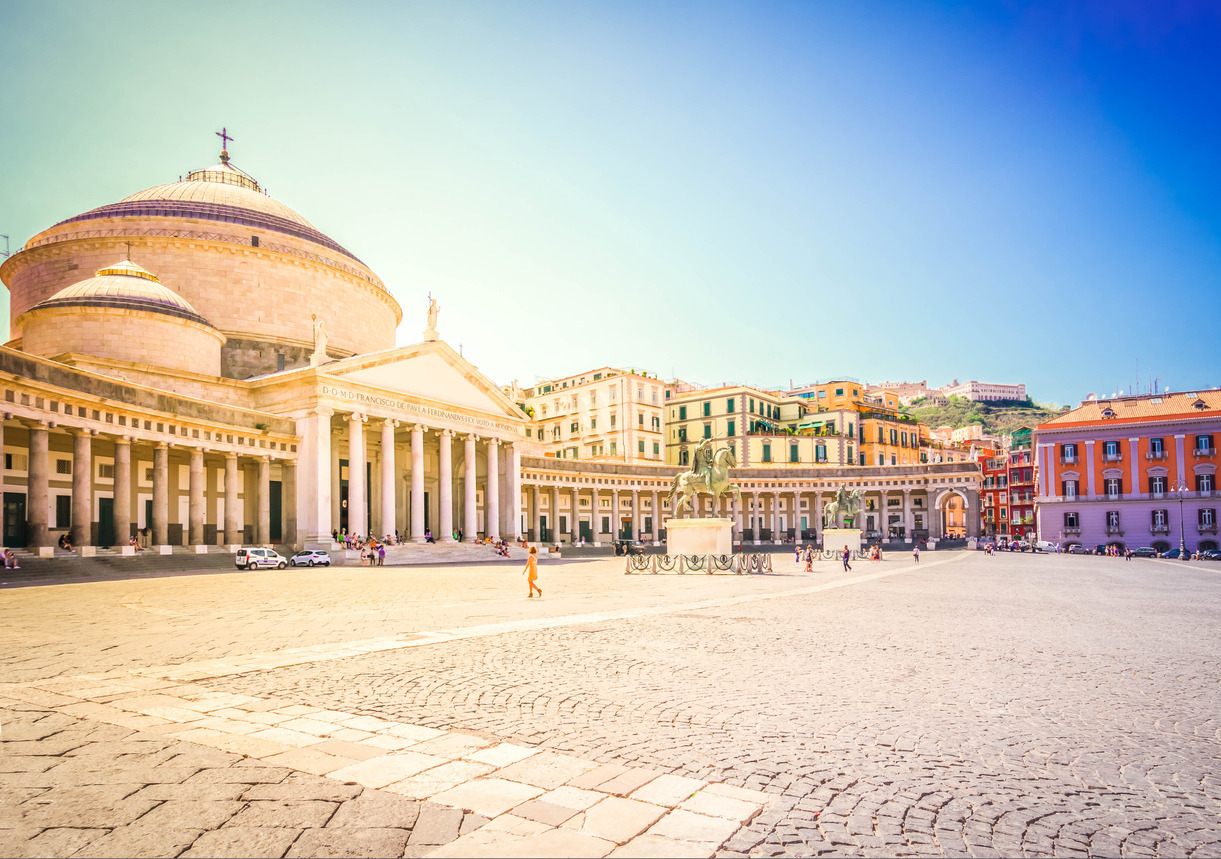 Tour Description

GUIDED TOUR of NAPLES    (2 ½ hours - 3 hours)
Naples, for some time capital of a kingdom, is today the third largest city in Italy and the largest in the south.
You will be charmed by splendid views, picturesque corners and museums.
The city has a Greek soul which conquered even Nero, who chose its theatre for his performances.
Naples was conquered by the Byzantines, Normans, Suebi, Angevins, Aragonese, and after a period as a Spanish colony, it became capital of the Kingdom of the Bourbons, until the unification of Italy.
Each conquest has left traces in the town's historical, artistic and cultural patrimony: from the Greek aqueduct to Roman villas, Norman castle, the Maschio Angioino (French fortress), the "St Carlo" theatre, the Plebiscite Square, to the "Umberto I"shopping gallery.
The historical centre has been a UNESCO site since 1995.
The city is a unique mixture of historical buildings and churches of great artistic value, combined with its traditional hand crafted nativity cribs and its aroma of gastronomic specialities, like pizza, fried pizza, rum baba, "sfogliatelle" and coffee.

A half day tour could be one of the following:

1) PANORAMIC SIGHT SEEING BY BUS AND WALK THROUGH THE MONUMENTAL CENTRE
A bus drive along the coast road to Mergellina and then to Posillipo to admire the view + a visit by bus or on foot of the monumental centre: Piazza Plebiscito, St Charles Theatre, Umberto I Gallery, French Castle " MaschioAngioino" (external visits).

2) THE OLD QUARTERS
A walk along the decumani in the old quarters, through Spaccanapoli, and then the handmade nativity cribs in the St Gregorio Armeno district + choice of visit of some of the monumental churches:
-  St Mary Assunta Cathedral and treasure chapel of St Gennaro
-  St Laurence church and excavations
-  St Domenico Maggiore
-  San Severo chapel, which is famed for its sculpture of the veiled Christ
-  St Clares church with its beautiful majolica tiled cloisters
-  Gesù Nuovo church
*Suggested tour for people who have no mobility problems
*Covered shoulders and knees for church visits
3) A MUSEUM VISIT
A choice of:
-  THE NATIONAL ARCHEOLOGICAL MUSEUM OF NAPLES (MANN), famous for its treasure from the Vesuvian sites and for its Farnese collection
-  ST MARTIN'S CHARTERHOUSE, a jewel of Baroque art and precious example of Carthusian architecture, which is now the Neapolitan history museum.
-  THE CAPODIMONTE MUSEUM, one of the major art galleries in Italy
-  THE ROYAL PALACE, containing a history of Neapolitan art from the period of Spanish colonisation to the age of the Savoys.
Entrance tickets are not included in tour price
DRESS CODE/USEFUL INFORMATION:
Sunglasses, sunhat, sun protection cream, comfortable shoes, water, camera, for museum entrances photocopy of ID / passport for 12 -­25 age group, backpacks no larger than 30 x 30 x 15 cm.

FULL DAY NAPLES   (8 hours)
A full day tour combines two of the above choices according to customers' requirements.
We can also arrange programmes for personalised visits