Pompeii
Duration
From to 2 up to 2 ½ hours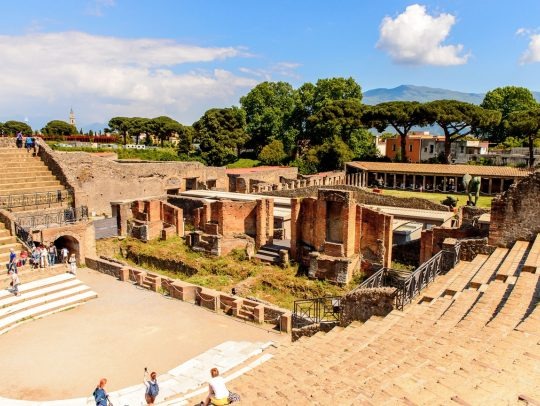 Tour Description

GUIDED TOUR of POMPEII   
Pompeii is the second most visited site in Italy after the Colosseum in Rome.
Covering 66 hectares, of which 45 have been excavated, it has been a UNESCO recognised site since 1997.
The eruption of Mount Vesuvius in 79 A.D. froze the town in time, giving us an idea of how a Roman town was organised, with its roads, shops, bakeries, restaurants, thermal baths, theatres and other public buildings.
You need a guided tour to bring the place alive, especially given the size of the site, which makes orientation difficult even for the most experienced visitor.

Experience daily life in Pompeii with our expert archaeological guides!

A visit lasts from 2 up to 2 ½ hours and can be combined with other places (for example Vesuvius, or other nearby archaeological sites).
On request you can explore Pompeii all day (maximum 5 hour visit).
This means exploring hidden areas with its tales, including the famous "Villa of Mysteries" and the amphitheatre on the towns outskirts.
The entrance tickets are not included
Special tours are available for people with mobility problems, following the "Pompeii for everybody" route.
In this case the access will be from the designed gate.

DRESS CODE/USEFUL INFORMATION:
Sunglasses, sunhat, sun protection cream, comfortable shoes, water, camera, backpacks no larger than 30 x 30 x 15 cm, photocopies of ID / passport for the age group 12-25 years.
We can also arrange programmes for personalised visits